? The Lord of the Rings: The RPG | Main | Good question ?
January 23, 2004
Light Cycle
This is about right especially right now (via the Meatriarchy).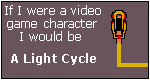 I am a Light Cycle.


I drive fast, I turn fast, I do everything fast. I even breakfast. I tend to confuse people with my sudden changes of heart. Sometimes I even confuse myself, which tends to cause problems. What Video Game Character Are You?

Posted by Ghost of a flea at January 23, 2004 09:59 AM