? Oops! | Main | My Crappy Life ?
November 29, 2004
JFK. WTF?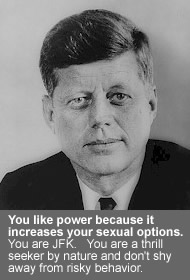 What Famous Leader Are You?
personality tests by similarminds.com
This is a sly dig about Ecosystem link ranking, right?
Posted by Ghost of a flea at November 29, 2004 11:11 AM
Trackback Pings
TrackBack URL for this entry:
http://www.ghostofaflea.com/cgi-bin/mt/trackback-engine.cgi/2202
Comments
Lincoln. And for the "What classic movie are you?" quiz I was the Godfather. Can't complain.
JFK - verrrry seksy, Flea.
Posted by: rick mcginnis at November 29, 2004 08:18 PM
Saddam Fargin' Hussein. Please tell me I don't come off like that.
Posted by: Chris Taylor at November 30, 2004 01:12 AM
I, apparently, am Hitler. D@mn! At least Hussein still has some friends.
Posted by: Paul at November 30, 2004 05:54 AM
I was Saddam as well...wtf!
Posted by: Andrew Ian Dodge at November 30, 2004 07:55 AM
The Flea goes....
..."Back & to the left!"
..."Back & to the left!"
..."Back & to the left!"
/Oliver Stone
Posted by: urthshu at November 30, 2004 10:29 AM