? Henry V | Main | Modern Ruins ?
April 09, 2004
Dancing chicken
Take the quiz: "What kind of chicken are you???"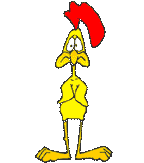 You are the dancing chicken.
You just wanna shake your tail feathers. You tend to dance around questions and not answer them directly, but you're oh so damn fun!
This chicken-lore arrives courtesy of the philosopher of Classical Values, a Golded Mis-Proportionate chicken. For the record, I was also a Grammar God but gave up trying to post it because the graphic failed to load!
And then... And here is my American city. I would have said Manhattan (and I am also partial to Atlanta).
Take the quiz: "Which American City Are You?"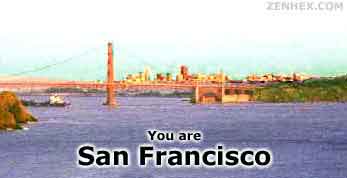 San Francisco
Liberal and proud, you'll live your lifestyle however you choose in the face of all that would supress you.
Posted by Ghost of a flea at April 9, 2004 05:44 PM
Trackback Pings
TrackBack URL for this entry:
http://www.ghostofaflea.com/cgi-bin/mt/trackback-engine.cgi/49
Comments
Wow! Dancing in San Francisco! You're definitely cool without trying.
I figured you'd have to be a Grammar God too.
Posted by: Eric Scheie at April 9, 2004 06:24 PM